Legacy Planning Packet
Many donors today are saying, 'I want to leave a legacy to the next generation... I want to pass on my values to my kids and grandkids.' One of the best (and most tax-efficient) ways you can do this is by naming one of your favorite charities - like ADF - in your Will or Estate plan. Many people are surprised to learn that including a charity in your Will is very easy. Plus, it's a meaningful, practical and simple way to communicate your values to your kids and grandkids... it opens the door to talk about what you want your legacy to be.
Download our free Legacy Planning Packet below and get started today!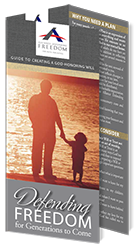 Defending Freedom for Generations to Come Brochure
Download Now

Six Steps to an Effective Will E-Booklet
Download Now